Home | Manthey Racing | Haribo Racing | Flying Lizard Motorsports | Capuava Racing | Good Smile Racing | Kremer Racing | Alfa Romeo DTM "Martini" | Red Bull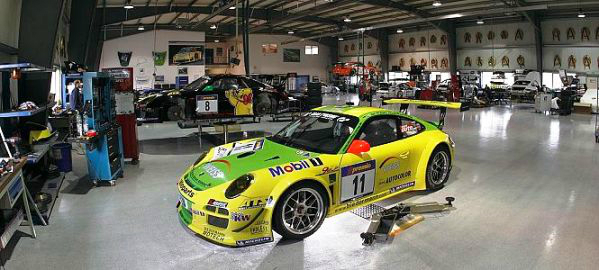 Manthey Racing GmbH founded in 1996 by Olaf Manthey in Rheinbreitbach with the purpose to develop, build and use Porsche specialized racecars.
Namely for the circuit an to provide teams to be able te fight in numerous classes of motorsport.


From 1997 Manthey stated on special request to develop end make parts for the road legal cars.

The growing activities lead to a new, bigger en better facility, partnership with Gallade they build "technology centre Nürburgring" in the recently build business park across the famous Döttinger, the fastest part of the legendary track the Nürburgring Nordschleife
On more than 11.000 square meters and equipped with state of the art equipment.

With the leadership of Olaf Manthey and the unique location this could be the perfect conditions for race and also street cars.

Manthey Racing is manly known for their well-known green/yellow 911 which participated on the 24 hours of the

Nürburgring, in total they were able to win this legendary race 5 times. In 2006, 2007, 2008, 2009 and 2011.
But also in numerous sub-classes Manthey stood by for victory and also in other races they took numbers of victory's like GT Open en de Blancpain Endurance Series.

Since 2013 Manthey Racing and Porsche Motorsport combined there forces and drove at Le Mans, the WEC,what resulting a 1,2 finish in class (LMGTE PRO) at le Mans in 2013. As said, the first year of the combined forces at work.
This was accomplished with the new Porsche 991 where you will find the models here!.


This page only shows the Manthey Porsches and the by Manthey supported Porsches.







Spark


(MM996-AC-24h28)
[LE: 470 of 1000 pcs.]


Porsche 911
GT3-MR
Luhr/Bernhard/
Rockenfeller/
Tiemann

24h Nürburgring 2006

Best result:
Overall winner





Spark


(........)
[LE: ... of 500 pcs.]


Porsche 911
GT3-MR
Bernhard/Lieb/
Dumas/Tiemann

24h Nürburgring 2007

Best result:
Overall winner

Spark


(MM997-AC-24h08)
[LE: 1 of 600 pcs.]


Porsche 911
GT3 RSR
Bernhard/Lieb/
Dumas/Tiemann

24h Nürburgring 2008

Best result:
Overall winner

Spark


(MM997-AC-24h09)
[LE: 244 of 6200 pcs.]


Porsche 911
GT3 RSR
Bernhard/Lieb/
Dumas/Tiemann

24h Nürburgring 2009

Best result:
Overall winner

Spark


(MM997-AC-114VLN2010)
[LE: 193 of 500 pcs.]


Porsche 911
GT3 R
Luhr/Klasen/
Lieb

VLN Nürburgring
2010

Best result:
4 Victories:
West Falenfahrt
DMV 4-stunden
ADAC Reinoldus
DMV Münsterlandpokal

Overall:
1st

VLN 2010 Champions


Spark


(MM997-AC-24h11E)
[LE: 81 of 500 pcs.]


Porsche 911
GT3 RSR
Bernhard/Lieb/
Dumas/Luhr

24h Nürburgring 2011

Best result:
Overall winner







Spark
(MM997-AC-24h11S)
[LE: 37 of 500 pcs.]


Porsche 911
GT3 RSR
Bernhard/Lieb/
Dumas/Luhr

24h Nürburgring 2011

Set was issued because of the 5 times victory of the 24h of the Nürburgring. (2006, 2007, 2008, 2009 & 2011)

And also because they hit a new recordlap of 8.33.905 minutes

On the left the version from the start and to the right the one who came over the finish like that.










Spark
(MM997-AC-6h10)
[LE: 228 of 300 pcs.]


Siegerpodium
6h ADAC
Ruhr-Pokal_Rennen
(VLN)
31.07.2010

1st:
#88
Haribo Team Manthey

2nd:
#114
Manthey Racing GmbH

3th:
#112
Manthey Racing GmbH




Spark


(MAB033)
[LE: 53 of 300 pcs.]


Porsche 911
GT3 R
Klohs/Richter/Renauer/
Schmidtmann

24h Nürburgring 2016

Best result:
16th overall

In SP9 Class:
15th





Supported Manthey Porsches

Minichamps


(MM996-AC-620VLN04)
[LE: 666 of 1000 pcs.]


Porsche 911
GT3 Cup
Hulverscheid/
Jacobs
Schornstein

VLN Nürburgring
2004

Best result:
5th
DMV-4-Stunden

Overall winner in class CUP4




Minichamps


(437116110)
[LE: 711 pcs.]


Porsche 911
GT3 R
Kohler/Gindorf/
Wlazik/Scharmach

24h Nürburgring 2011

Best result:
22th
14th in his class:
SP9 GT3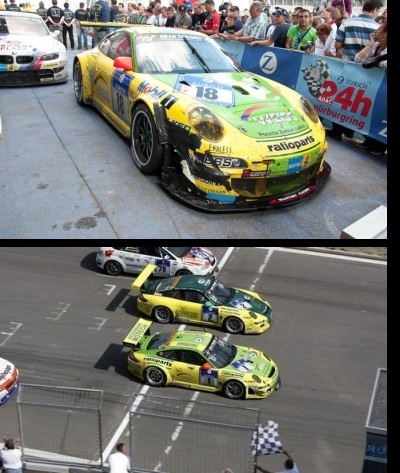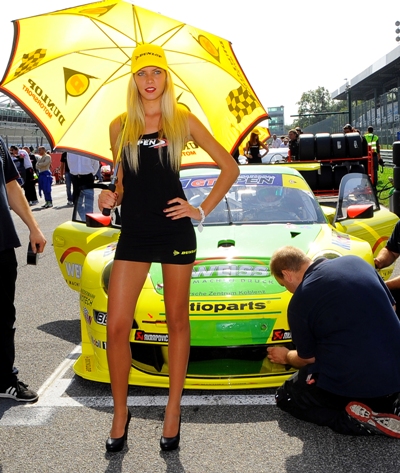 This site was last updated: 14/12/16
Return to the model car collection